Tips for Planning an Author Visit
Step 1. Pick the date
When picking a date for Darleen's visit — think simple. Try not to combine Darleen's author visit on the same day as picture taking, carnivals, field trips, or other school-wide events. However, if you wish to combine her visit with a book fair or another visiting author/illustrator, feel free to do so.
Pick out your first and second choice of dates, email Darleen with those dates, and she'll let you know if these dates are open. When a date is settled upon, she will send you a confirmation letter with her phone number. Feel free to call her with any questions or concerns.
Here are two GREAT ideas:
Darleen once visited Bishop Elementary School, Lawton, OK, where Rhonda Boyce, LMS, had a great idea. She told all her students that if they read any of Darleen's books, even the books which were under their AR level, she would still allow them to be tested and to receive points for taking the tests. This encouraged the older students who would normally not have read the books. It was a great way to pick up easy AR points PLUS a great way to prepare them for Darleen's author visit. She said, "The kids loved the opportunity and the books flew off the shelf!"
Be sure to have your library copies of Darleen's books returned to the library before her visit so that she can autograph them. Start asking a few days ahead of time and let the student/teacher know that the book will be returned to them afterward.
Step 2. Preparation & Promotion
Read, do book talks, and share Darleen's books with your students and teachers.
Use this site to print out fun book activities, writing lessons, songs, arts & crafts, and other 'goodies' which your students will love. Some of the fun things you'll find on this site are: bookmarks, "Bee-Bop Buttons", 30-Minute Bulletin Board packets, "Funny Money", AR tests, Reader's Theaters, etc. All these activities are here— at the click of a button for your convenience— to make your planning hassle free!.
Step 3. Place Book Order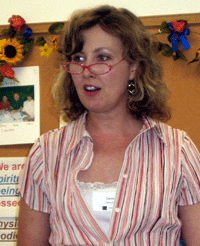 Four-six weeks (or as soon as possible) before Darleen's visit, send home her handy 'Book Order Form' which will announce Darleen's visit and take book orders. This form can be friend on the menu under "Book Ordering".
Then collect the orders and place your book order with your local book store or with Darleen's publishers. Tips for placing book orders can be found on the menu under "Book Ordering". Be sure to order an extra dozen books for last minute buyers.
The week before Darleen arrives, be sure to send home the handy 'Reminder Book Order Form' to remind parents of her visit and to take last minute book orders.
Step 4. Make a Schedule
Please keep in mind, that Darleen will do four sessions of your choice per day, plus autographing(s).
If you prefer more sessions, there will be an extra fee for each additional session. Also, she'll need a 15 minute break between sessions for the coming and going of students.
Also, if you'd like Darleen to do something different than her usual four session choices, keep in mind that she can also visit classrooms, visit with students one-on-one, visit with select students such as the Gifted & Talented, writing clubs, book clubs, journalism classes, school newspaper staff, high-readers, low-readers, etc.
Pre K-1 = 20-30 minutes
2nd and 3rd = 45 minutes
4th through 12th = 55-60 minutes
Please allow at least one hour for lunch.

Darleen will eat lunch with students and/or teachers. She's real flexible, so if you have a lunch idea, just let her know. See "Step 7" below.


Five Sample Schedules or You Can Create Your Own
Schedule Type One
7:45 Arrive, set up
8:15 - 8:45 Author Talk
9:00 - 9:45 Author Talk
10 - 11:00 Author Talk
11:15 - 12:30 Lunch
12:30 - 1:15 Autographs
1:30 - 2:30 Hands-on Writing Workshop
2:30 - ? Autographs
**********
Schedule Type Two
8:00 Arrive, set up
8:30 - 9:00 Author Talk
9:15 - 10:00 Author Talk
10:15 - 11:15 Autograph
11:15 - 12:30 Lunch
12:45 - 1:45 Author Talk
2:00 - 2:45 or 3:00 Hands-on Writing Workshop
*********
Schedule Type Three
8:30 Arrive, set up
9:00 - 10:00 Author Talk
10:15 - 11:00 Hands-on Writing Workshop
11:00 - 12:00 Lunch
12:15 - 1:15 Author Talk
1:30 - 2:30 Hands-on Writing Workshop
2:30 - 3:00 Autograph
**********
Schedule Type Four
9:00 Arrive, set up
9:30 - 10:00 Author Talk
10:15 - 11:00 Author Talk
11:15 - 12:15 Lunch
12:30 - 1:30 Hands-on Writing Workshop
1:45 - 2:30 Idea Files: Jumpstart Story Writing & How Darleen Gets Her Ideas
2:45-3:15 Autograph
Schedule Type Five
Author talk to the entire school
Writing workshops
Step 5. Get the Location Ready
If you want more than the usual four sessions, Darleen can do a fifth session for an extra $150.00. Need six sessions? Add $100.00 more.
Please have these items in the room where Darleen will be speaking:
Chair
Table to display her books
Two extension cords
Large screen or empty white wall
Cart for Darleen's projector & laptop
Water
Chairs for teachers (don't forget the teachers!)
Darleen brings her own microphone/sound system, laptop, and projector.
Please note: If you have skylights or large windows in the room, make sure the room can be darkened for her PowerPoint presentation.
FOR OUT OF STATE--If Darleen's traveling out of state, please have a powerpoint projector and a sound system available so Darleen doesn't have to bring hers on the plane. Also, please provide a computer/laptop. Darleen will bring her memory stick for her PowerPoint presentation.
Step 6. Autograph Sessions
Darleen can autograph during a designated autograph session so that she meets students one-on-one, after school has let out, or between her sessions. It's your choice!
If Darleen has a lot of books to autograph; more than fifty, it's best to break the autograph time into two sessions. This way her hand can rest between sessions.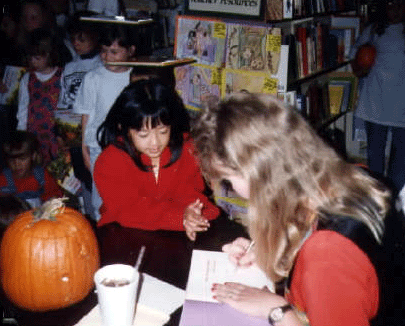 Step 7. Lunch
Whatever you have planned sounds good to Darleen. She will eat with students or teachers. Often, schools will select a group of students to eat with Darleen and will get a local pizza parlor to provide pizzas, etc. These are often students who have been 'caught reading' or who have written an essay of why they would like to eat with the author or students who just need extra encouragement in reading and writing. Darleen isn't picky about what she eats but she can't drink soda or sugary drinks so water or caffeine-free, sugar-free, iced tea.
Step 8. Enjoy Your Day!
Don't worry. If you have never hosted an author visit before, Darleen will be happy to walk you through it. She's just an email or phone call away. She's done enough author visits to help you through it.