Check Out these Great Sessions:
With more than 70 presentations made to thousands of our students, and interaction with hundreds of teachers and administrators, the only complaint we had about Darleen's presentations was that they had to come to an end. Really. Her visits were the most smoothly played-out, successful series of author visits I can remember having in the Putnam City School District. Her visits exceeded our highest expectations. We've had a lot of authors visit over the years, many with big names and lots of published books, but we've never had anyone be more successful at getting the "reading and writing are good things to do" message out to our kids.--John McGrath, Multimedia Specialist, Putnam City Schools, OKC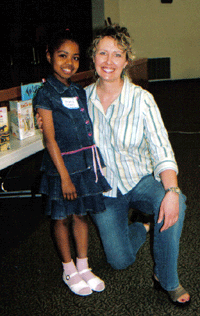 Darleen will do four sessions per day, plus autograph her books. (She will do additional sessions, up to six sessions per day, at an additional cost. See speaking fees on the menu.) She also enjoys eating lunch with students and teachers, so if you want to host a special luncheon, please do! (See Tips for Planning Your Event for sample schedules, "Author's Lunch Bunch" ideas, and fun information to make Darleen's visit even easier to plan.) If you don't see the session below that you're looking for, just ask. Her sessions can always be tailor-made JUST FOR YOUR EVENT!
Author Talks— Darleen discusses her childhood, how terribly shy she used to be, her 'Band-Aide' collection (kids love this!), & the special fifth-grade teacher who changed her life. She does a book talk, current works talk, Q&A, and a slide presentation which shows her personal life, the process a book goes through to become a published book, as well as the pictures she drew & the stories she wrote when she was in elementary school.
FOR ALL AGES. Time: 45-60 minutes.
For Pre-K & 1st Grade: 20-30 minutes.
Hands-on Writing Workshops— Fun, kid-tested, hands-on writing workshops for not only students but teachers, as well. Approximately 45+ workshops to choose from, many of which include props, silly costumes, music, & food. Click here to see her writing workshops. All workshops enforce the writing skills which students are required to master in their statewide writing tests: Narrative, Persuasive, Expository, and Descriptive. Also, check out her home page for her newest hands-on writing workshps, as she usually develops her workshops during the summer and posts the newest ones here.
FOR ALL AGES. Time: 45-60 minutes.
Workshops for teachers can be a half-day or whole-day(s).
Author-in Residence — Darleen will visit your school for up to eight-weeks at a time and engage your students in the above mentioned, fun, hands-on writing workshops. At the end of her residency, students will have a collection of their writing and illustrations in a hardbound book. Students enjoy the opportunity of working one-on-one with a "real live author," sharing a special connection with her over the length of her residency, and having a "Famous Author Party" to celebrate the publication of their very own books! When students hear her knock on their classroom door, they often shout, "She's here! She's here! What do we get to write today?" It's a special event which your students will never forget. Teachers get tips and lesson plans, so they, too, can share these fun writing workshops with future students.
In-depth Q & A with Poetry Writing—Darleen answers in-depth questions about what it's like to be an author— the ups & downs of getting published, how she gets her ideas, behind-the-scene stories about her books, money (you don't want to be nosy, but you'd really like to know), & shows students how to submit their own writing & art to publishers.
A casual, sit-down session. FOR 3rd GRADE - ADULTS.
Time: 20-60 minutes.
Idea Files: How to Jumpstart Story Ideas—Darleen opens her own personal 'idea file' to show the newspapers, photos, travel brochures, magazines, cartoons, and even junk mail she uses to spark ideas for her award-winning books.This is such a fun session and is PERFECT for in-service workshops for teachers.
FOR UPPER ELEMENTARY - ADULTS. (5th grade through high school). Teachers also enjoy this session as it shows how they can help students create idea files in the classroom.
A busy, informative and funny session.
Time: 50-60 minutes.
Two-thousand and four was an exciting year for students of Bay, Okaloosa, and Jackson counties as Darleen visited 42 schools (over 18,000 students & teachers) during a six-week residency. She is a polished professional who kept our students engaged in her presentations as well as her writing workshops. Her visit was delightful & her sweet spirit was contagious. She motivated our students to read & inspired them to write across the curriculum . . . Our teachers & students are still talking about her books & visit. I highly recommend Darleen as a presenter & writing instructor — Sammie Garnett, Author Visit Coordinator, Bay District, Panama City, FL.